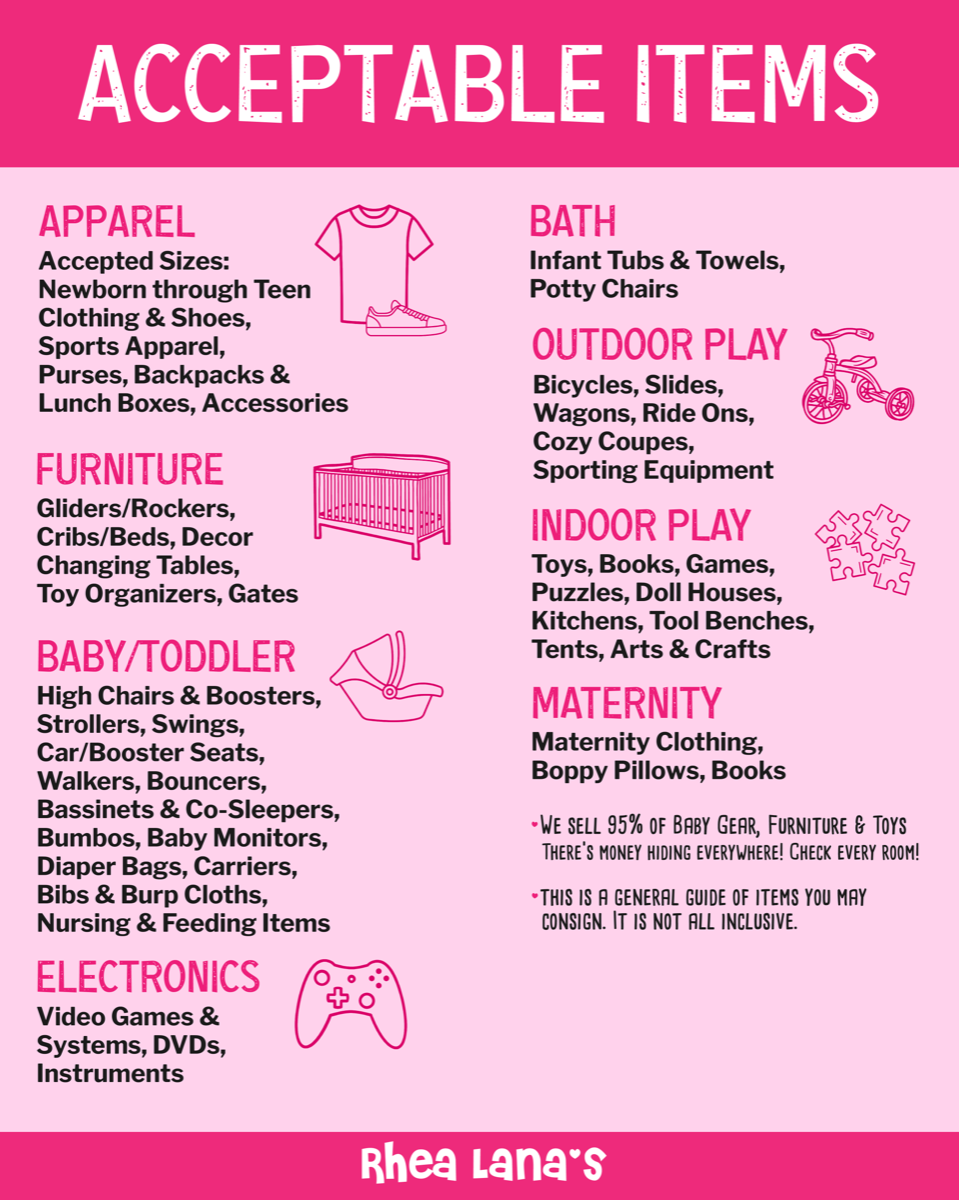 We Accept:
- Boy's sizes 0-18, girl's sizes 0-16 and junior sizes 1-13 in teen styles. All must be no more than 2-3 years old, clean and odor-free.
- Infant clothing - priced competitively - its abundant! Remember we have a 25 hanger limit per gender for infant clothing sizes preemie to 12 months.
- Shoes in excellent condition
- Baby furniture and equipment
- Nursery accessories and infant gear
- High quality toys,books and video games
- Licensed & battery operated stuffed/plush toys (examples Squishamellow, Build a Bear Laugh and Learn Smart Puppy, LeapFrog My Pal, Tickle Me Elmo, FurReal Friends and similar toys)
- Please limit infant rattles, plush toys and lovies to those that are easily washed and are packaged in bags with the tag secured inside, visible and the bag is taped closed
- Children's ride-on toys, bikes and outdoor toys, sleds
- Sports accessories
- Dancewear, Dress-Up and Halloween Costumes
- Maternity clothing and accessories
- Infant and children's bedding sets, crib, toddler or twin sets. Infant receiving blankets and children's blankets, full size designer bedding
- Bookshelves, twin beds, bunk beds, tables, dressers, desks, from your child's room.
We Don't Accept:
- Recalled Items.
- Out-of-date clothing - It will not sell!
- Any item that is stained, torn smells of smoke or extremely worn.
- Items with missing buttons, broken zippers or lost parts.
- Battery operated toys without batteries.
- Baby equipment that is not clean or has been recalled.
- Bags of loose toys unless theme oriented (i.e. bags of all army toys, all McDonald toys, Barbie toys all cars and trucks, etc.)
- VHS movies
- nick knacks
- afghans, large comforters or bedding for queen or king size beds
- Used breast pumps
- Bras of any kind or any underwear that is not brand new in sealed packaging
- Stuffed or Plush items without batteries or non licensed.